20 April 2020
Publisher opportunities for advertisers in the COVID-19 climate
The impact of COVID-19 and the resulting economic crisis is drastically altering the Australian digital publishers industry. From this unique situation a range of advertising opportunities have emerged and now, more than ever, is the perfect time to take advantage.
Publishers are struggling to survive even though demand for content is at an all time high
The impacts of cancelled or reduced media spends are forcing publishers to make big changes to keep their businesses running. IAB Australia's recent Digital Ad Impact Study found that 21% of agency and marketing respondents paused all advertising spend while 57% decreased spend with Programmatic Display and Publisher Direct Display the most affected.
These cuts have forced publishers including News Corp, Nine and Seven to implement various strategies such as redundancies, salary reductions, decreased working hours, forced leave and shifts within departments, to mitigate the financial repercussions.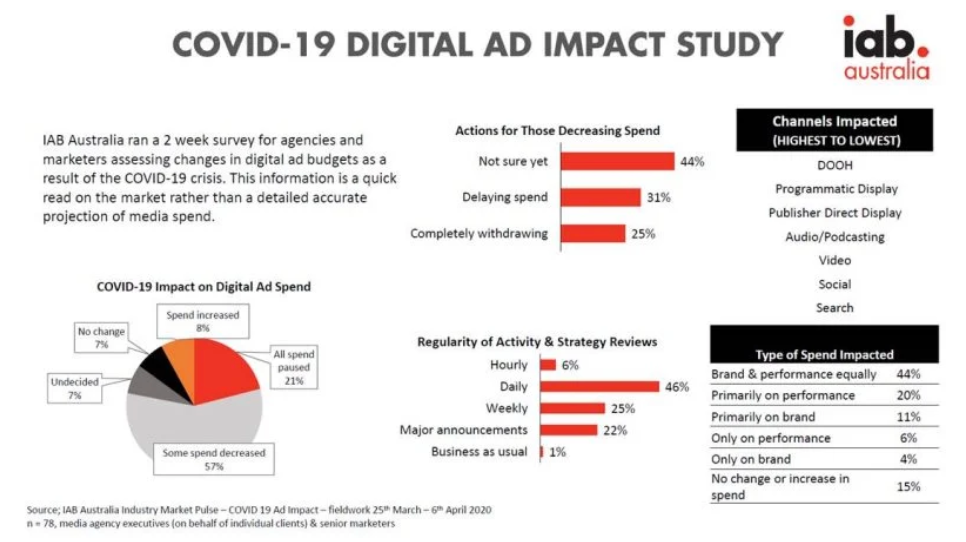 IAB Australia's research into the impacts of digital advertising in Australia
Through all of this, demand for news content has steadily increased since January 2020. Nielsen's Digital Content Ratings (DCR) for March 2020 reveal a 52% month on month rise in unique audiences across the major publishers with some even seeing over 100% growth. It is clear that in times of crisis, people want to be armed with credible, quality and accurate reporting.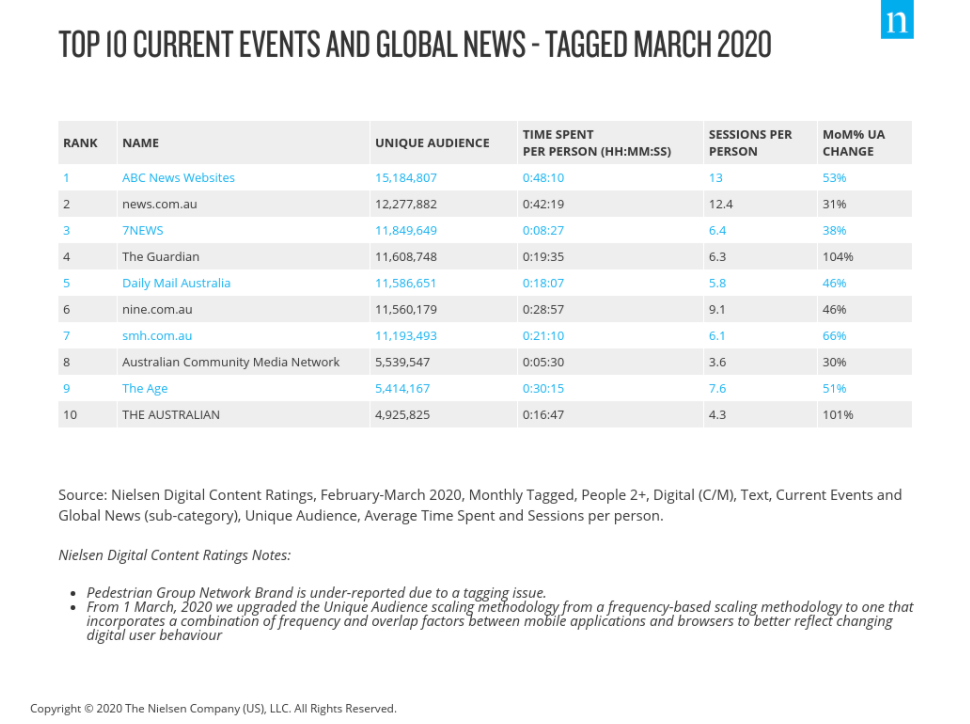 Nielsen's top ten current events and global news websites in March 2020
In a separate review, Nielsen also found that time spent across the 'overall current events and global news' subcategory reached more the 51 million hours in March 2020, a jump of over 20 million hours since December 2019.
CPMs are dropping quickly
Louder has found that CPMs across the top ten news publishers have dropped by 32% YOY and 79% across the top 50 digital publishers in Australia. They could continue to fall if the news boycott intensifies. The worsening financial situation is reflected by the actions of many leading publishers who, over the past few weeks, have started to offer reduced rates and push for direct or programmatic guaranteed buys to lock in media spend.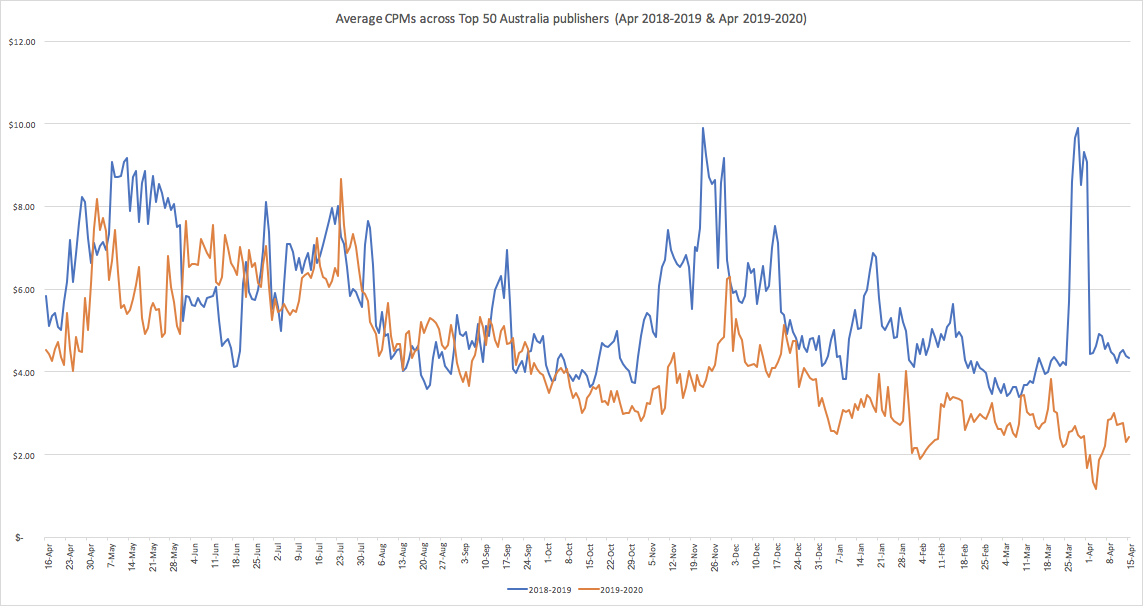 Louder's research into CPM fluctuations
This presents a unique opportunity for brands, especially small advertisers with lower spend levels, to reach users they may not usually have access to and keep their brand top of mind as the pandemic unfolds at a much lower cost.
Blacklists are a big problem for publishers
However, increased site traffic during this period has certain complications. Where publishers should be experiencing a swell in revenue and competitive CPMs, the inherent use of blacklists and negative keyword lists are causing great concern, preventing advertising from appearing alongside content linked to the coronavirus.
Demand has been so strong that a leading exchange created an open auction deal excluding COVID-19 related news, limiting exposure to the keywords in question. But by excluding keywords such as 'crisis', 'coronavirus' and 'COVID-19, brands could be missing their chance to connect with a ballooning audience.
Through all of this, publishers are doing everything they can to ensure brands continue to invest in media. Last week, News Corp published an open letter to advertisers offering support and asking brands to "back not block us". Similarly, a large body of news publishers in the UK have created the #backdontblock appeal to encourage advertisers to remove specific keywords from blacklists and to support the media.
The issue is so widespread that IAB Australia has urged advertisers to support news and journalism, encouraging them to make an investment in trusted environments and review their brand safety practices.
Consumers still want to see advertising
The message here is clear, keep advertising if you can, and consumers agree. A recent Kantar survey reported only 8% of surveyed respondents thought brands should stop advertising during this time. The main reasons for this? They believed that there was still demand for products and services and that advertising provided a sense of normality, distraction and escape. However, they did not want to see brands exploiting the situation.
A different avenue to reach large scale audiences
News and global events content may not be the only way reach audiences. Nielsen's most recent DCR reveal a surge in food and cooking content after the Government announced stage 1 restrictions on Sunday, 22 March. It reported a 71% increase in time spent on online food and cooking websites with those aged 13-24 increasing their time spent across those categories by 144%.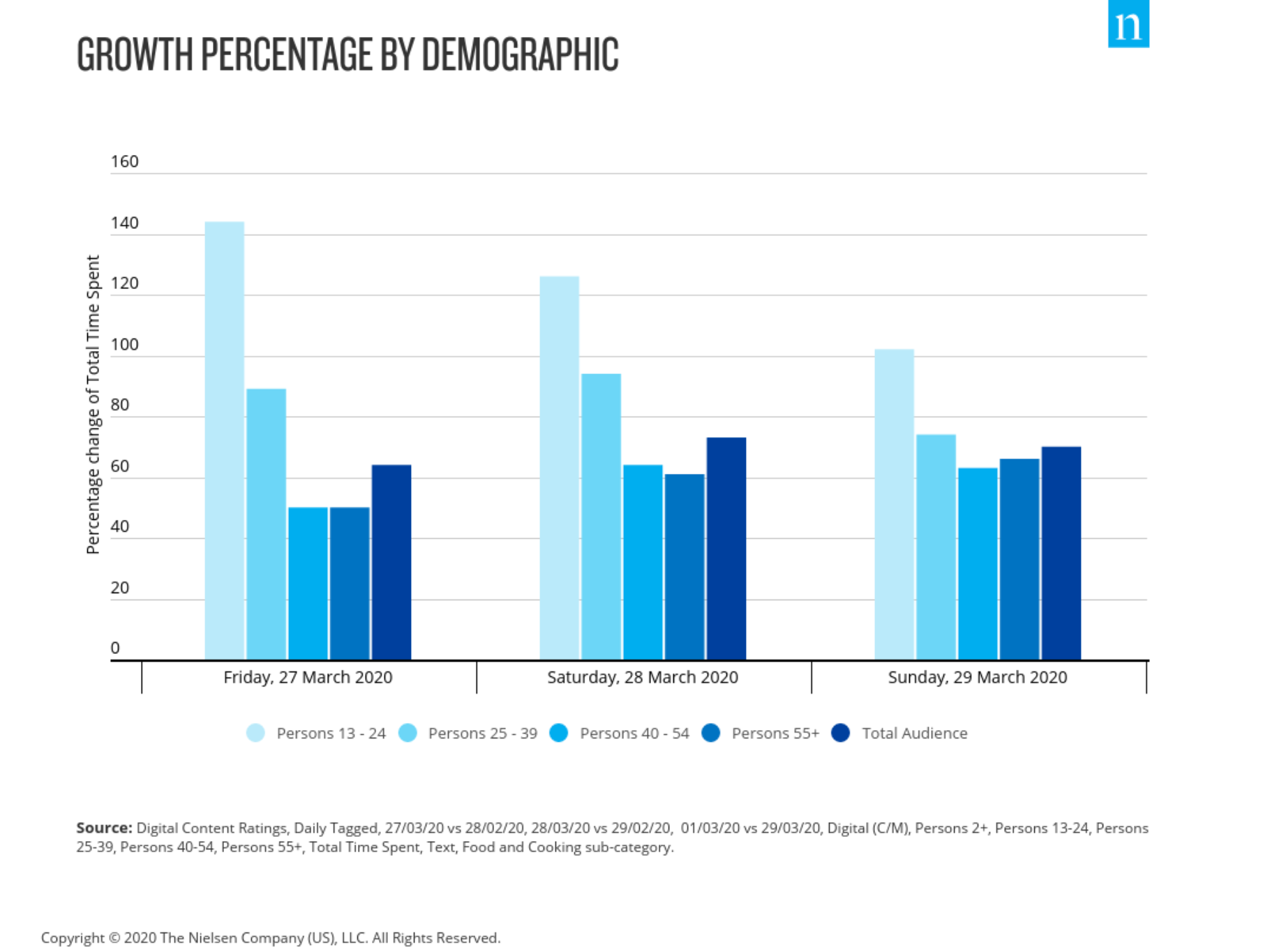 Neilsen's DCR showing growth percentage in food and cooking content in March 2020
Here is an opportunity to reach and engage with users in a brand safe environment and across segments that may not be as commonly utilised.
Facebook offering incentives to advertisers
In a blog post written on 24th March, Facebook revealed just how much usage has soared across all their apps. Countries experiencing full lockdown saw a 50% increase in messaging across apps such as Whatsapp and Messenger. Italy, in particular, spent 70% more time across all apps since the pandemic outbreak. In the same post, however, they confirmed that their ads business had weakened, especially in countries that had taken aggressive action to reduce the spread of the virus.
To combat this issue and incentivise small businesses to continue advertising within the platforms, they launched the Small Business Grants Programme offering USD $100M in cash grants and ad credits to 30,000 eligible businesses. Facebook Marketing team members are even directly contacting Ads Manager account holders offering free calls to discuss the best ways to advertise in this changing environment.
International markets reveal changing online habits
With Australia slightly behind the COVID-19 wave, we can to look to countries such as China, Italy, Spain and the US as a guide. Along with the social media growth already mentioned, further information indicates that mobile and streaming habits of countries in lockdown are increasing quickly.
An investigation conducted by App Annie reveals that time spent in apps in Italy grew by 30% in March from Q4 2019, while other European countries and the US have seen 10%-15% growth. Interestingly, this report also found that time spent in TikTok in China has surged by 130% from the weekly average in 2019. With the social video platform recently launching an Australian commercial team, advertisers have an opening to pounce on their inventory.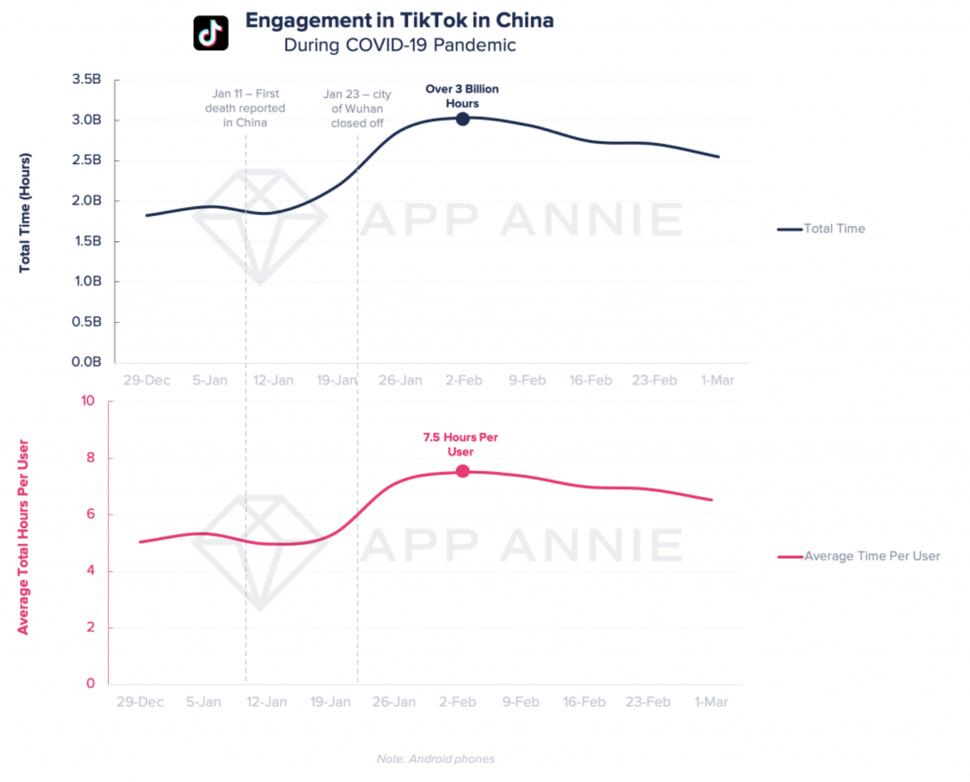 Research conducted by App Annie revealing China's Tik Tok engagement
Youtube is also experiencing higher traffic internationally. Google trends data revealed a spike in Youtube searches in Italy and Spain related to the entertainment, education and community categories. The demand for streaming extends to BVOD as a recent report by Conviva indicated that European BVOD consumption rose by 41%, overtaking Live viewing.
Australia could see the same trends emerge as the population is forced to stay inside and practice social distancing. If this occurs, brands and agencies should be using this data to adjust plans and schedules to ensure that they are advertising across the most frequented channels.
Lesser used channels are emerging as strong performers
People are now looking to different mediums for entertainment. SCA revealed they saw their biggest week of live streaming ever last month, while Telaria confirmed through email correspondence that their BVOD offering grew by 27.4% across light reality, entertainment and drama week on week. This could be a great time to try something new and exciting. Testing the performance of audio or BVOD might be the start of an entirely different direction for brands, and it could be exactly what they need to reach a previously untapped user pool.
How can advertisers take advantage of the current situation?
Advertise across the major news publishers for lower rates
Review brand safety guidelines to serve advertising across coronavirus coverage
Reach large audiences via alternative categories
Continue advertising across social media apps
Get in touch with a Facebook Marketing guru for some free advice
Invest in Youtube, BVOD and other streaming options
Experiment with emerging channels and formats such an audio
In such uncertain times, one thing we know for sure is that digital consumption, supply and usage is increasing. When COVID-19 is eventually managed or eradicated and we settle slowly back into normal life, we will remember the brands that continued to service us, helped us survive the crisis and gave us something to look forward to. What better advertising is there than that?