17 July 2020
Apple announce major Safari privacy changes
On Monday 22nd June, Apple held its annual Apple Developer Conference (WWDC - World Wide Developer Conference) virtually, an event used by the tech giant to launch both large and small products, features and software along with new capabilities spanning the entire Apple portfolio. In a move that appears to double down on privacy, a significant change related to Apple's browser, Safari, was announced.
Providing more control to users, a new browser feature will not only display all trackers on sites visited, there will also be an option to block them. Located next to the address bar, this will allow users to makes their own choices around how their data is shared and used.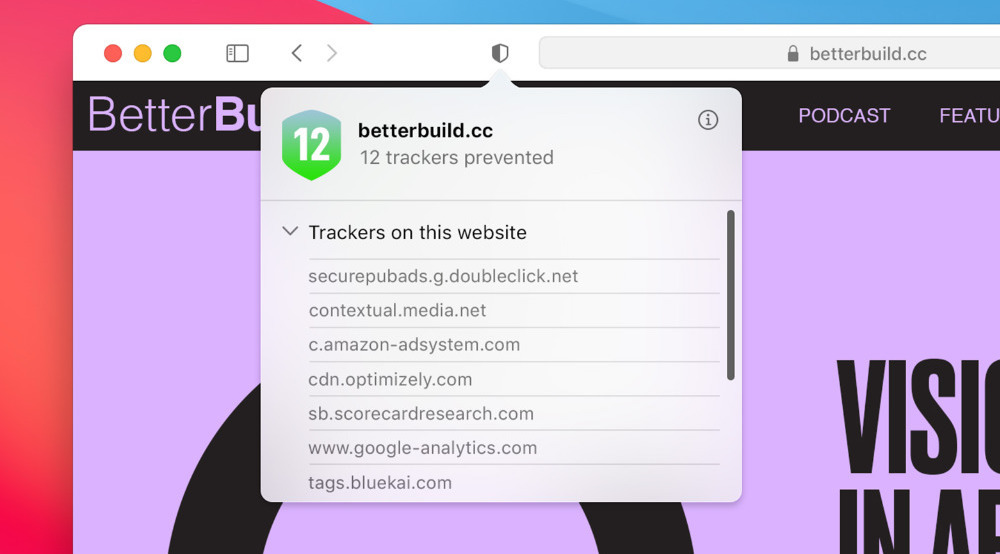 Image from Apple's video stream showing the notification of trackers through Safari's new Privacy Report. Please note, this states "12 trackers prevented". It is assumed that this is where a user has blocked trackers from running.
It is important to note that users will be notified of the trackers via the Privacy Report, but they will not be blocked by default, although some users may choose to do this.
These updates are not unexpected. Privacy centric changes to Webkit, Safari's browser engine, started taking place in 2017 with the aim to prevent criminal and unauthorised use of user data for advertising or marketing purposes. This Intelligent Tracking Prevention (ITP) initiative has been an important focus area for the company over the past few years.
Louder have commented extensively in the past on these changes.
Safari currently holds the second largest browser marketshare and occupies around 50% of the Australian browser marketshare on ASX200 companies web properties, reaching up to 80% across mobile environments. These announced changes, had they been far reaching, would have the potential to be impactful to Australian businesses.
With the information we have at the time of writing, Apple have identified the below vendors as tracking users:
Ad networks (Media.net)
Amazon Media (amazon-adsystem.com)
DMP/Data Commercialisation (Bluekai)
Google Analytics
Google Publisher Platform (formerly DoubleClick for Publishers)
Research/Intelligence (Scorecard)
Testing/Personalisation (Optimizely)
It is important to test your website, to check for any serious impacts or affects relating to these changes. You can do this by using the beta version of Safari, which is available through the Apple Developer Program for a cost. Louder will be able to assist you through this process or answer any questions that may arise.
We are actively working with leading vendors to understand the impact to their products and will provide a more detailed impact analysis, on a product by product basis as information becomes available. It is completely feasible that Apple will make further changes in this area moving forward at which time, we will update the market accordingly.
Subscribe to the Louder newsletter to stay informed on future developments related to this story, along with the latest news on analytics and privacy.
References:
To learn more about this change, you can listen to the WWDC. The privacy session starts at 55.00 minutes.