10 September 2020
Keyword="No Referrer" Comes to Google Ads
Keyword data expected to be redacted from marketers reports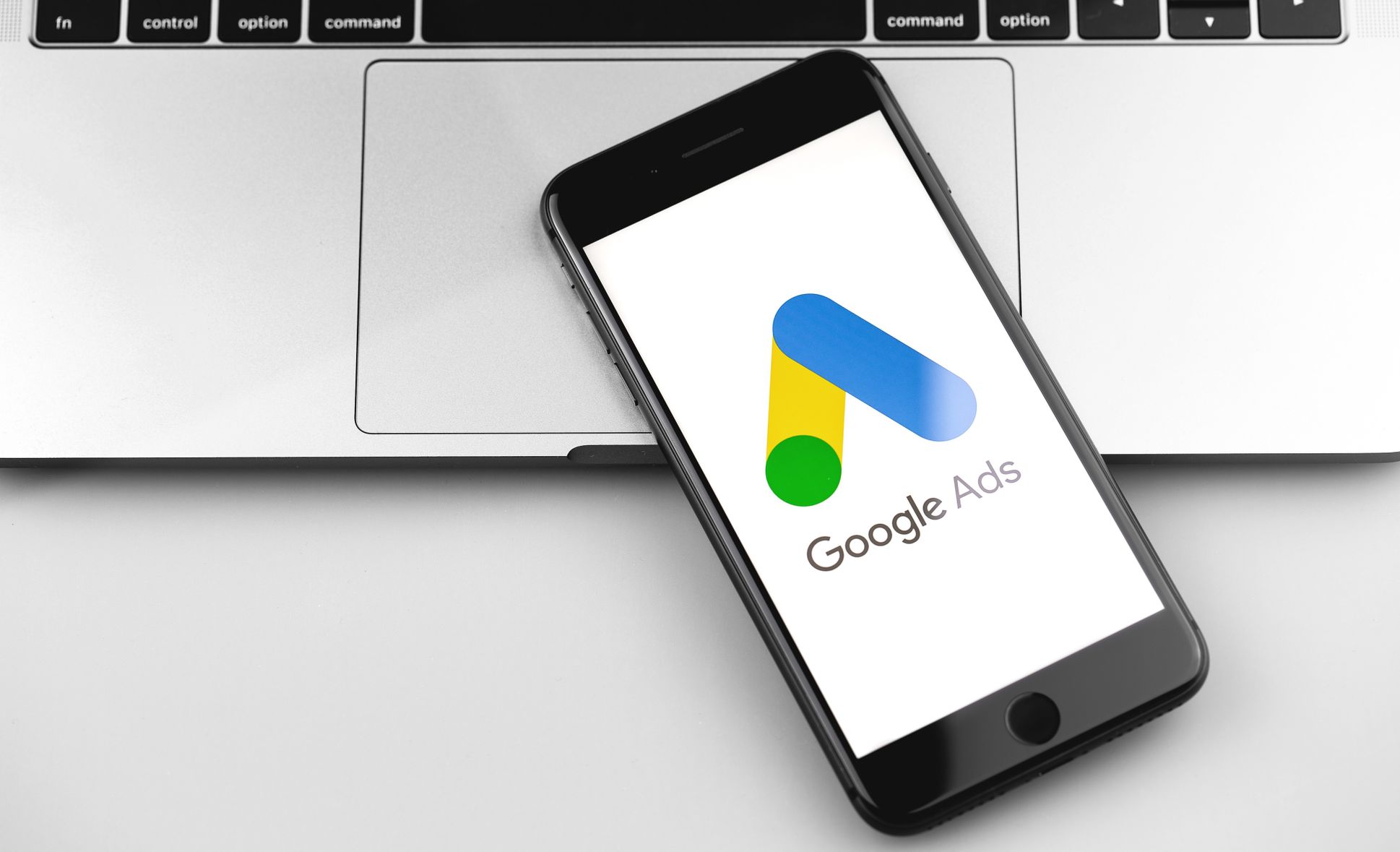 What happened?
At the beginning of September 2020, Google Ads users began to see the below in-platform alert explaining there would be a decrease in reportable keyword search terms.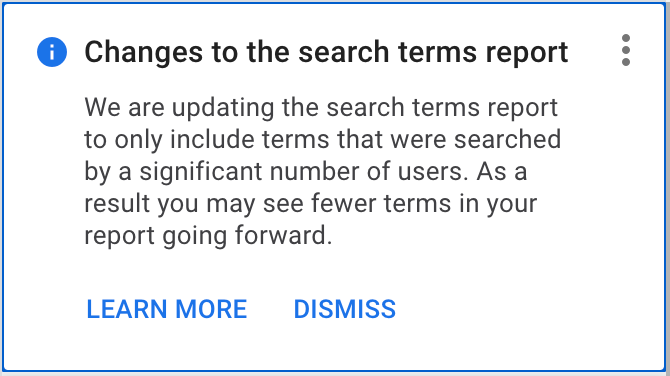 The Google Ads UI alert

"We are updating the search terms report to only include terms that were searched by a significant number of users. As a result you may see fewer search terms in your report going forward".
Google has referenced this impact on the Search Terms Report support page stating "Starting September 2020, the search terms report only includes terms that a significant number of users searched for, even if a term received a click. You may now see fewer terms in your report."
At this point in time, it is not possible to tell when this change will be rolled out exactly in September, and/or if it has already started rolling out to the accounts. A day-to-day or month-on-month search term report coverage analysis will help marketers determine whether or not the changes have been rolled out to their accounts.
What does this mean for advertisers?
There are numerous consequences for Google Ads users that will alter the way search advertising is managed and reported on moving forward.
Visibility - Google was already filtering available search terms in the platform. This update decreases furthermore the visibility over consumer intent and the corresponding queries which trigger Google Ads.
Control - diminished control over longtail and niche searches, which, cumulatively, can total a 'significant' percentage of a budget. Advertisers must now accept that a reasonable percentage of the traffic and media budget will no longer be optimisable in Google Ads.
Campaign management - the implication of such a change is yet to be fully understood, however, it is safe to say that keyword targeting is moving from inclusion to an exclusion approach, with more emphasis on marketers to predict what queries may trigger their ads.
Small advertisers appear most at risk
Louder is still determining what the 'significant' threshold may be. As an initial impact assessment, we have hypothesised that the budget spent on search terms with less than two impressions/clicks for advertisers will, at the very least, be impacted by this change. While we agree that two impressions or two clicks do not constitute a 'significant' volume, we can see the potential impact of this change, but it is too early to make any conclusive assumptions.
Based on our hypothesis, this is the predicted impact on various Google Ads accounts depending on their monthly spend for terms that have less than two impressions and terms that have less than two clicks.
| BUDGET EXPENDITURE LAST 30 DAYS | EXPOSURE ON TERMS < 2 IMPRESSIONS | EXPOSURE ON TERMS < 2 CLICKS |
| --- | --- | --- |
| < $600 | 54% | 58% |
| < $50,000 | 51% | 54% |
| < $90,000 | 27% | 31% |
| < $250,000 | 12% | 15% |
Louder's estimated potential impact assessment on Google Ads per spend tier
How will this impact Paid Search professionals?
The ability to optimise budgets at a keyword level will be significantly limited by the changes
There is an expectation for advertisers and search marketing professionals to 'trust the algorithm' in a similar manner to other Google Ads products, such as Smart Shopping Campaigns
Google Ads users will have the choice to raise budgets to increase visibility into the search term reports and to action any further budget or keyword changes
Increase in the need for benchmarking and testing to ensure set up is correct
What should you do now?
In general, when platforms remove available data, you ultimately have to accept the data is gone, or attempt to recover it from other sources.
Therefore, areas to investigate include:
Conduct a benchmarking exercise to determine how this update has impacted your reporting, and to calculate your campaigns or business exposure. An easy analysis to run is to look at the budget currently being spent on search terms with 2 impressions or clicks that have yet to be added/excluded divided by the total budget spent during the period. The higher the number, the greater the risk for a business.
Determine whether any Google Ads automation functionality can be leveraged to cover this new data blind spot. Investigate whether the Google Ads automated bidding actually helps improve the performance of that non-accessible data, or will it fall under the same non-optimisable category as search partners?
Contact your Bid Management vendor (i.e. Google SA360, Kenshoo, Marin, Adobe AdCloud, etc) to understand how these platforms are reacting to this information loss.
Coordinate education and training to communicate the changes to your organisation, and to preempt any requests for clarification of the reduced number of terms in the reports and potential future performance fluctuations.
Create custom reports in Google Ads to track the changes over time, to identify any increasing trend and correspondingly increased exposure. A way to do so would be to report monthly on the search term volumes and compare it to the overall account actuals.
PS: Whilst this situation is new to the world of Paid Search, it may be familiar for those remembering the redaction of Google organic search terms via "Secure Search" (i.e. Not Provided) around 2012 in Australia. Today this applies to ~85% of all organic search terms.
For any advice on navigating this new challenge, please contact your Louder account lead or get in touch with us.