31 May 2021
Opting in to Google Ads Auto Apply Recommendations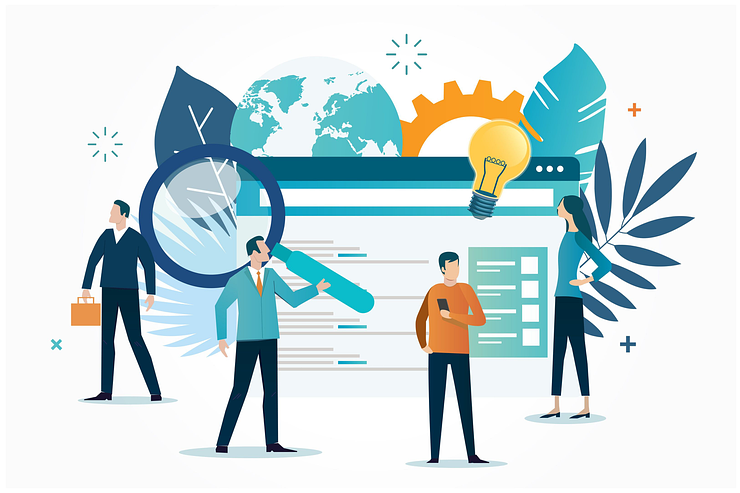 To make optimisations faster and easier for account managers, Google Ads introduced the Recommendation page in 2018. By reviewing an account's performance history, current settings and trends across Google, 35 AI based recommendation options covering four main categories - Bids, Ads and Extensions, Keywords and Targeting, and Repairs, were made available.
Advertisers then had the option to apply, edit or dismiss these in-platform suggestions for each account. However, a problem arose. Reviewing and implementing was a time-consuming process when managing multiple accounts.
So, to rectify this and streamline the management of these recommendations, Google recently introduced the Auto Apply Recommendations Control Center. All available recommendations can now be found and managed in one place while selected recommendations can be auto-applied, erasing the need for advertisers to navigate into each account and manually apply them.
Accessing Google Ads Auto Apply Recommendations
By creating this new centralised setting page, account managers now have better visibility on the automated recommendation settings for each account they are managing. Instead of navigating into each seperate accounts to review recommendations and then apply them, you can streamline the process by enabling this new feature:
Access the Auto Apply Recommendations Control Center via this link, directing you to a list of accounts and their status

Select the accounts that you want to apply auto recommendations to by, selecting the relevant check box and clicking Activate

Once the account has been activated, click Select recommendations

Select all the items that you would like opt in for auto recommendations

Click Update recommendations to save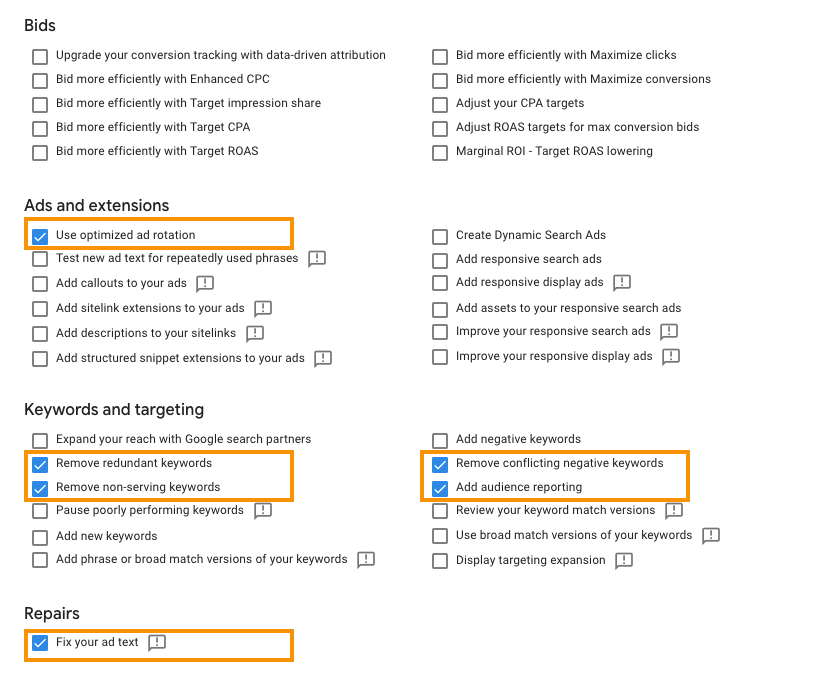 List of auto recommendation options after clicking on Select recommendations.
Please note that certain accounts will not be able to access this feature due some current limitations.
How do I start using this feature?
Whilst this increased level of account automation may look appealing from an operational standpoint, you need to think carefully about how much control you wish to hand over to the Google machine. It is best to be cautious and take things slowly.
As a starting point, we suggest that you enable basic account hygiene and reporting options:
Use optimised ad rotations: profitable ads will be assigned more weight by the system and further pushed to acquire better results overall

Remove redundant keywords: avoid internal competition and potential for same search term coverage

Remove conflicting negative keywords: these could be blocking traffic and stopping your ads from showing

Remove non-serving keywords: these are keywords that received no impressions in the past 365 days and usually are labeled low search volume or low-quality score. Removing them will make your account more nimble.

Add audience reporting: the system will suggest audiences that are very relevant to your campaigns and may have great potential. They will then be added lists as Observations, without impacting your targeting scope. This will allow your campaigns/ad groups to map to additional audience recourses, so that you can get more insightful reporting information regarding how they perform, and then make informed bid adjustments on high-performing/low-performing audiences

Fix your ad text: if your ads were rejected due to editorial issues, the system can fix the copy and then serve the ads
People-led optimisation is best
Opting in to more complicated optimisations such as budgets and bid strategies, could put accounts at risk and may cause serious damage to the performance and/or compliance of the accounts from a creative point of view.
It is always useful to acknowledge and assess the in-platform recommendations and utilise a test and learn strategy when trialling new techniques. Ultimately, optimisation plans devised and actioned by account managers are critical in navigating the intricacies of paid search performance.