21 May 2020
Kiss that frog goodbye: An expert's guide to restarting your programmatic and paid social campaigns after hibernation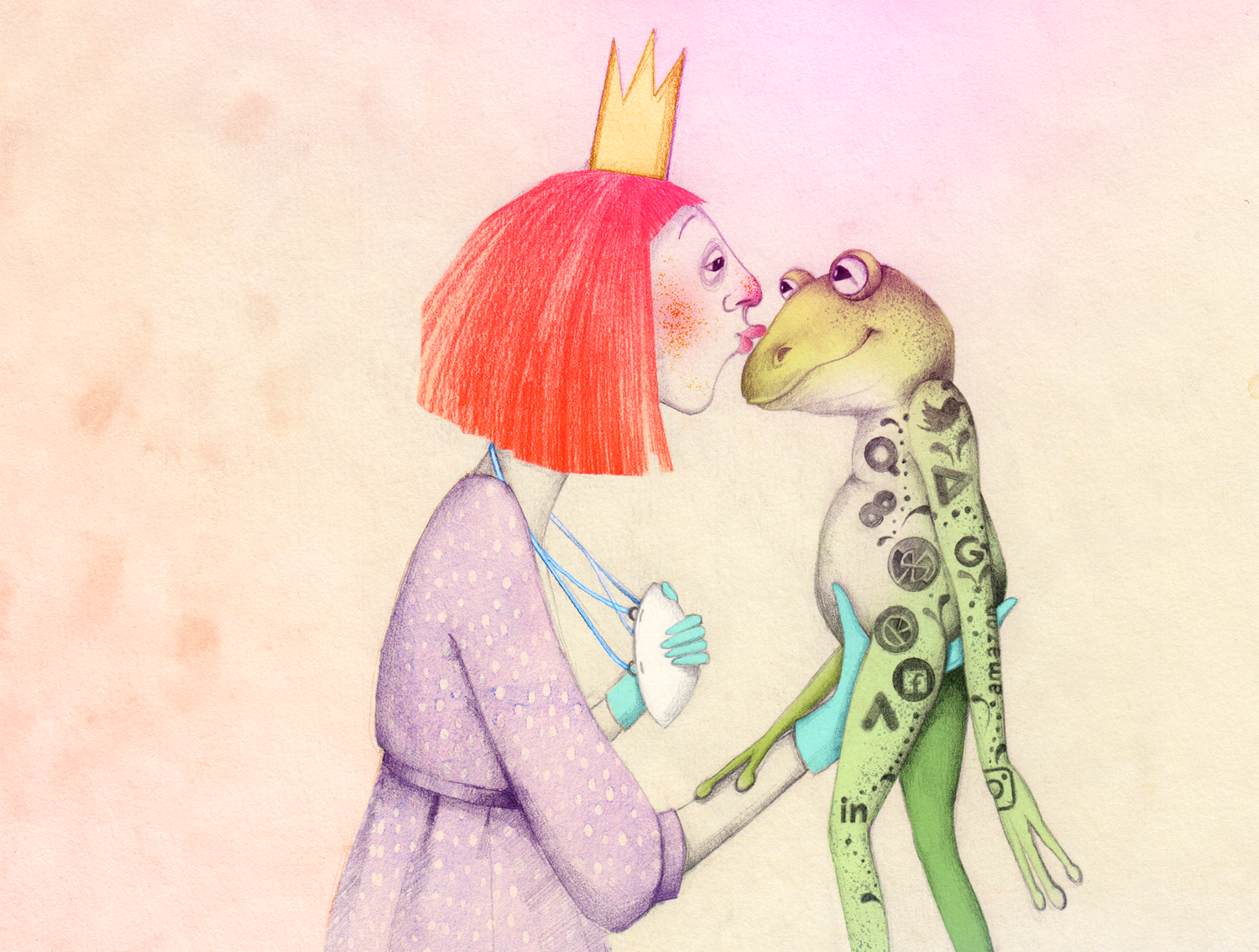 The impacts of COVID-19 on Australian society have rattled the digital advertising industry. Government lockdowns and increasing uncertainty have caused businesses to slash their advertising budgets leading to paused, cancelled or deferred digital campaigns. To help campaign managers handle this evolving situation, Louder has produced a series of best practice how-to guides that provide in-depth step by step processes into pausing and reactivating programmatic, social and search campaigns. Following these tips can turn your advertising frog into the perfect prince charming.
We are aware that many businesses have already paused or scaled back advertising and may only find reactivation relevant at this time however, we wanted to share our full hibernation process as it may prove useful in response to something other than COVID-19.
This first guide focusses on programmatic and paid social and is divided into the below sections:
Programmatic

Demand Side Platforms (DSP): Display and Video 360 (DV360) and Adobe Ad Cloud
Ad Servers: Campaign Manager, Sizmek, Flashtalking
Formats: Display, dynamic display, audio, native, video

Paid Social: Focussing on Facebook Ads Manager
Please note that while we may use examples of particular platforms, the basic process is universal.
You can also download the supplementary checklist to help keep track of all steps in the process.
How to pause programmatic campaigns

Documenting the campaign, changes and performance
It is important to create a Status Checklist to record specific campaign set up and to note changes in campaign performance over time. This document should house all important campaign settings and establish what optimisations were effective, detailing why they were implemented and whether they resulted in performance uplifts. A little tip - it can also serve as a handover document if required.
Notes to include in the Status Checklist are:
General campaign settings:

Name of campaign specialist
Budget flight behaviour

Note the pacing selected - even or aggressive

Strategy, bids, frequency, optimisation routine

Take note of the frequency of optimisations
Suggest areas to optimise towards such as CTR or conversion points

Sites

List specific site targeting

Time and day

Any day parting associated with campaign such as Monday 9am-5pm

Geography

Specific geo targeting e.g. Sydney only

Landing page/s

List of landing page/s and specific calls to action such as sign up

Creative

Messaging

Event event dates
Any relevant dates such as event or offer dates
Pricing that may be subject to change

Creative updates or swaps

Date of creative swap 2.Record of person who updated
Person responsible for approvals

Tracking

Specification of campaign success and remarketing areas

Optimisations

Maintain an optimisation log to track what adjustments were effective. Take note of:

Bid and budget shifts
Frequency cap updates
Inclusion or removal of strategies
Best performing creative, regions, sites and strategies
Publisher deal changes
Following this, you should:
Review the Status Checklist with a colleague or team lead, as another pair of eyes will be beneficial in identifying any missing points.
Save the document in the appropriate digital location:

Verify folder structures are aligned to business procedures so that the notes are not misplaced or difficult for other team members to find.
Pausing activity in the DSP
Most DSPs have a structural hierarchy, which allows advertisers to change settings at multiple levels, therefore pausing the Campaign or Insertion Order should be sufficient. However, it is best practice to pause activity on all levels to eliminate the risk of overspending. Bulk editing tools available in most DSPs within the user interface or as a downloadable spreadsheet can be used to pause campaigns.
It is important to note that campaign learnings will not be lost when pausing campaigns. They can be easily accessed for reporting purposes or once campaigns are reactivated.
Pause activity on every level:

Campaign
Insertion Order

Line Item/Placement

Examples of campaign hierarchies as seen in DV360 and Ad Cloud. Other platforms will follow a similar structure but may have different nuances.

Once the campaigns have been paused, follow these further steps to ensure smooth reactivation later:

Contact publishers to extend all deal expiry dates so deals will be ready to use when it is time to relaunch
Pausing campaigns in the Ad Server
Even though activity is unlikely to serve if the campaign has already been paused in the DSP, it is best practise to deactivate all campaigns in the Ad Server to mitigate any risk. To guarantee no ads will continue to deliver once paused, you should:
Pause on the Campaign level for a standard deactivation

The Campaign Manager UI displaying how to archive a campaign

Deactivate across the lower levels to ensure a complete pause on activity. These can include the below:

Package
Placement
Ad
Creative
How to restart programmatic campaigns

Preparing for reactivation in the Ad Server
Review all creative messaging to ensure it is still relevant

Check dates, pricing and any seasonal or event based copy and refer to the Status Checklist made prior to campaign pause for further details

Contact the client or creative agency if adjustments need to be made
Confirm landing page URL with the client

The existing landing page may be inactive or irrelevant
Update campaign with new URL if required

Once creative has been updated or approved, ensure it is clickable and driving users to the appropriate landing page
Check all conversion tracking and audience lists:

Test all previously used conversion tags to ensure they are firing correctly
Assess the size of the audience pools used previously
Create, implement and test any new conversion tags required
Create new audience lists if needed
Reactivating campaigns in the Ad Server
Check and adjust (if required) that the Campaign, Package, Placement, Creative and Ad dates match the new campaign dates
Ensure tracking has not been disrupted and check that conversion tags are firing correctly by using Google Tag Assistant or Ghostery
QA each Ad to ensure the correct landing page is assigned. Get in touch with us if you want more information around QA best practice guidelines
Preparing for reactivation in the DSP
When reactivating digital campaigns, learnings from algorithms will likely need time for adjustments to adapt to current market conditions ranging from 1-14 days depending on investment levels.
Append new creative to the correct Campaign or Insertion Order in the DSP

This should be implemented at least 3-5 days prior to live date to leave extra time for troubleshooting along with DSP and Supply Side Platform (SSP) approval.

Review general settings such as dates, budget, geo targeting, creatives and update based on the new media plan
Adjust all bids to ensure they align with current market pricing or, if that information is not available, use past bids and adjust after 2-3 days of reactivating
Conduct a brand safety review, as current events could result in changes to certain settings such as negative keyword lists and blacklists

COVID-19 caused a surge in certain negative keywords such as Chinese virus, coronavirus, Diamond Princess, Ruby Princess and toilet paper, leading to list revisions
Ensure reporting has the correct feeds set up if dashboards have been used
Louder regularly updates its negative keyword list. Contact us for more information or access

Review existing publisher deals:

Run site reports to assess whether there are any significant price differences (a 20% variance is considered significant)
Review publisher or specific site targeting, such as Whitelists, to ensure optimal traffic levels and performance
Contact relevant publishers to negotiate more competitive deal rates
Reactivating activity in the DSP
Activate all levels within the campaign including:

Campaign
Insertion Order
Make sure to check that all the Line Items or Placements are also active.

Monitor performance within the first 5-10 days and adjust if necessary
How to pause social campaigns
Even though LinkedIn, Pinterest, Snapchat and Twitter are big social advertising players, this guide focusses on Facebook Ads Manager as it is the most widely adopted. If you require more information around hibernation within another social platform, please get in touch.

Documenting the campaign, changes and performance
Create a Status Checklist and include the below:

General campaign settings - see Programmatic section for further detail
The location of all campaign pixels along with their associated audiences and conversion points. This will allow for swift verification and validation at a later date
Records of landing pages and the customer journey, as the site may change while the campaign is on hold.
You can also make more specific notes on:

Initial strategy/budget allocation
Best performing strategies
Expected KPIs
Changes/steps taken to mitigate external impacts prior to pausing
Changes in the Customer Feedback score on the client's Facebook page

Optimisations

Log any changes to the campaign within your optimisation log, particularly any specific developments or events affecting the campaign. This will provide a good performance baseline as a point of comparison when the campaign restarts. Things to include are:

New launches/phases in a campaign
Introduction of new Ad Sets
Budget shifts
Creative changes
Landing page changes
Pausing campaigns in Ads Manager
Pause activity at the Campaign level to ensure that all Ad Sets and Ads that reside within it stop serving. Please note that Facebook considers a campaign paused over 7 days to be a significant edit and will revert the campaign to the Learning Phase where spends, bids and results would be more volatile. To pause:
Toggle the blue on/off switch in the Campaigns tab, so that it becomes grey
How to restart social campaigns

Preparing for reactivation
To ensure all tracking is in place prior to relaunch it is extremely important to verify audiences, check that all re-marketing and conversion points are still valid and that relevant Facebook pixels and event codes are active. To do this:
Go to the Event Manager - Pixels page to check whether the line chart for each pixel shows recent activity. This may indicate whether the Facebook pixel and the event codes are still implemented on the webpage or if it the code needs to be reimplemented to reflect any recent changes. Example of Events Manager - Pixels page showing recent activity of the Facebook pixel code.

Go to Event Manager - Custom Conversions and check the Activity charts to confirm whether the custom conversion points are still registering activity. It may be required to recreate the custom conversions with new rules if, for example, the URL location has changed. Example of the Events Manager - Custom Conversions page showing recent activity for each conversion point.

Go to Assests - Audiences to check that the audiences pools are still sufficient and that the rules for creating the audiences are still valid. Image displaying the criteria which defines each custom audience.

Use the Facebook Pixel Helper add-on within your browser and navigate to the relevant pages to confirm that the desired pixels and events are present.

Example of Facebook Pixel Helper onsite depicting active pixels.
Preparing creative for reactivation
Review creative and ad copy to determine whether the messaging is still relevant by clicking Edit across each Ad separately. A few points to consider:

Whether offers are still valid
Whether the landing page locations are valid
If copy is time sensitive
Whether images are still valid

If creative needs to be adjusted, contact the client or creative agency
Check the comments and reactions on existing creatives. If there are a large amount of negative reactions and comments, create new ads for the relaunch.
Reactivating campaigns in Ads Manager
If the campaign has been paused for a substantial amount of time, consider duplicating and restarting as a new campaign. It may be simpler to manage the budget as it allows for a more straightforward comparison of the campaign between the two periods. To duplicate:

Go to the campaign level and select the campaign to duplicate
Click the Duplicate button
If the previous reactions/comments are not negative, keep the Show existing reactions, comments and shares on new ads option checked as it promotes better engagement and relevance scoring to the ads being served
Set the revised budget for the duplicated campaign within the Campaign details section

Enter the Ad Set budgets and revised campaign dates across each separate Ad Set
As the campaign will revert to the learning phase upon the restart:

Evaluate the most effective Ad Sets and restart those first. The delivery system is more likely to stabilise each Ad Set if there are initially fewer to compare
Avoid unnecessary edits during this phase as performance is less stable and any major changes will restart the process
After a long pause, it may be necessary to establish brand awareness. If possible, allocate a small budget to set a campaign with a goal for brand awareness, before restarting the main campaigns.

To schedule and activate the campaign, toggle the campaign to active on all levels. The toggle will change to blue when the campaign is active:

Campaign
Ad Set
Ad
As restrictions start to ease in the coming months and the economy rebuilds, advertisers will begin to increase spending and reactivate digital campaigns. To ready for this, it will be important to maintain stringent and efficient processes to ensure smooth and seamless handovers, preparation and relaunches. By following Louder's guides, you can provide the best possible digital campaign management and instil confidence in all stakeholders. These are uncertain times, preparation is key and knowing exactly what steps to follow will be invaluable.